Here's the rundown of last season's fly fishing that I promised earlier.
After getting home from Colorado, I pulled out my dusty old Cabelas Boulder Creek rod that I had bought in the original store in Sydney, Nebraska when I was 12. The reel had long since been lost in my series of moves. I went out and picked up an Okuma Sierra 4/5 and some Rio Mainstream WF5F line. I assembled most of my accesories like shot, indicators, leaders, tippets, etc, from what I had lying around a multitude of local stores. For flies, I came across www.anglersdream.net. Awesome prices and the flies are of great quality. I have made no less than half a dozen big orders from them and they all showed up quickly and complete. Check them out.
On one of my visits from Wyoming out here to see my dad,sometime in 2004, I brought along a friend who is a guide in Jackson Hole. He brought two Sage 5wts, and we hit the Little Truckee between Stampede and Boca. I learned more from him in those 3 days than I had put together in the 8 or 9 years of occasional fly fishing before that. We even got a pretty good number of fish.
So after gearing back up in the Summer of '08 that was my first destination. Anybody who fishes the LT knows it can be a tough one in the summer, and it was certainly that. After a dawn to dusk day of fishing, I managed one little 5"rainbow on a streamer. I fished this creek 3 or 4 times during the summer and managed to blank every time. I did find a huge bow in one awesome run. She was very hard to see, and easily over 25 inches. She was feeding on something mid water and I tried everything I had but I couldnt get her to go.
I also fished the Truckee River and managed to hook and lose 3 nice 'Bows in the 15inch class on a size 4 Conehead Bugger. I am looking forward to fishing this stretch of river here again soon.
After a stunning defeat on the Yuba soon after my last Truckee experience, I decided to go after some stillwater fish.
One of my bass fishing buddies grew up as a fly fisherman and he turned me onto this little gem in the El Dorado National Forest that is not supported by trout plants. This lake is almost enitrely wild Brown Trout, with an occasional Brookie or Rainbow showing up.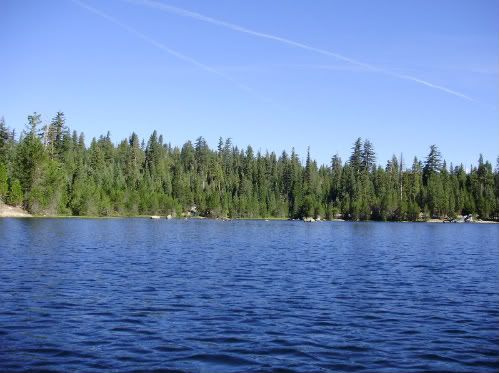 I in the late morning and was excited to see this lake. Since it is less than an hour from my house, I was especially impressed with its beauty. There was no surface activity or cruisers to be seen, so I ended up dragging a bugger on a sinking line for most of the day for one missed strike. But then, as soon as the shade hit the water, the western side of the lake started coming alive with the dimpling of feeding trout. I kicked my way over in my tube and tied on a size 20 Mosquito, hoping to mimick the tiny midges. After receiving no strikes in about 15 minutes, with trout going off all around me, I switched to 2lb tippet. After a long long wait I saw the little Mosquito get sipped under and after a minute or two was finally rewarded with my first California fly fish in quite a long time.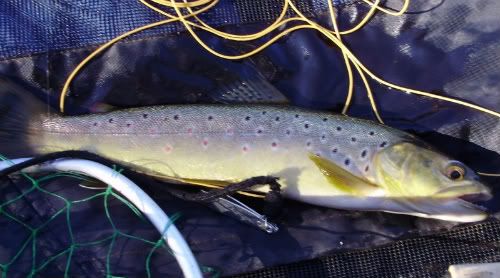 I fished this lake about half a dozen times last year taking many fish that were within the 10-15 inch range. I only had success early in the morning and late in the evening with dry flies, with no fish to hand on nymphs or streamers. I will be back up there soon, just waiting on the snow to clear off the roads.
I also fished Wrights Lake many times, always with a handful of Browns in the morning and evening on dries, and Rainbows during the day on Wooly Buggers. On one our trips to Wright's, I got bored so we opted to do a day hike on our last day to one of the nearby lakes in the Desolation Wilderness. This was my girlfriends introduction to back country hiking and the 1000ft of altitude gain had her wanting to quit, but she stuck in there and was glad she did when the lake finally appeared in front of us. STUNNING!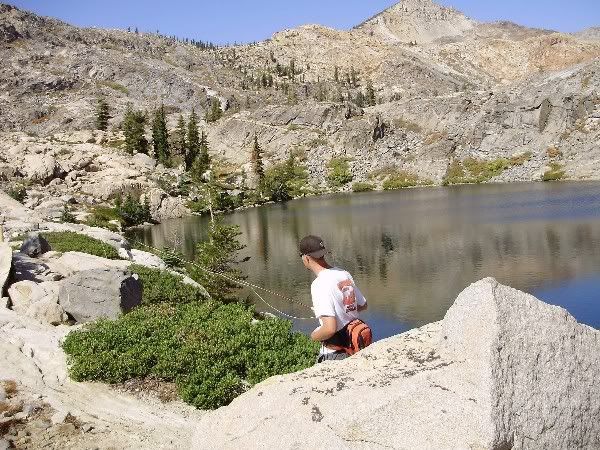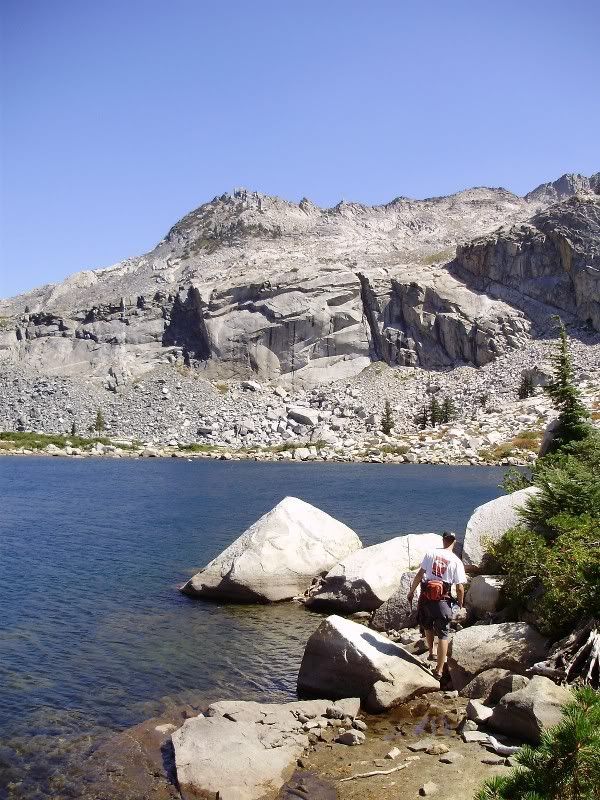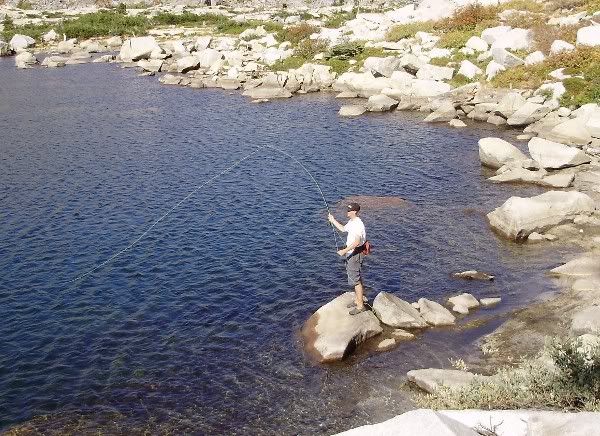 I managed to get about 15 of these on a size 12 Stimulator. Nothing like reckless little brookies in the high country.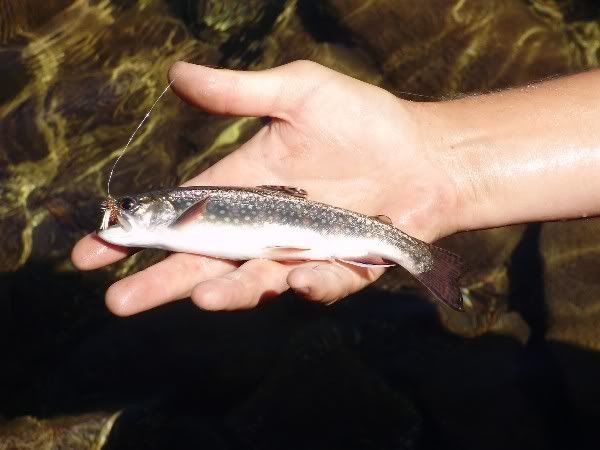 I rounded out my season with a couple trips to the Eastern Sierra in October. Both trips were awesome despite the extreme weather and chilly temps. My first ever Lahontan Cutthroat taped out at 26"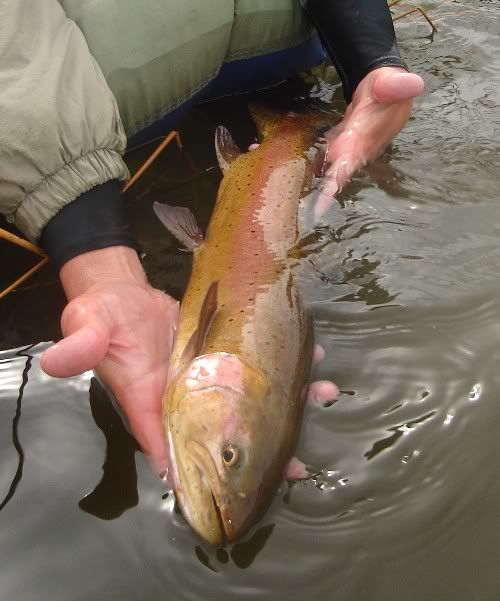 We caught many others, most in the 16-19 inch range, with an awesome range of colors, here are two at the far ends of the spectrum.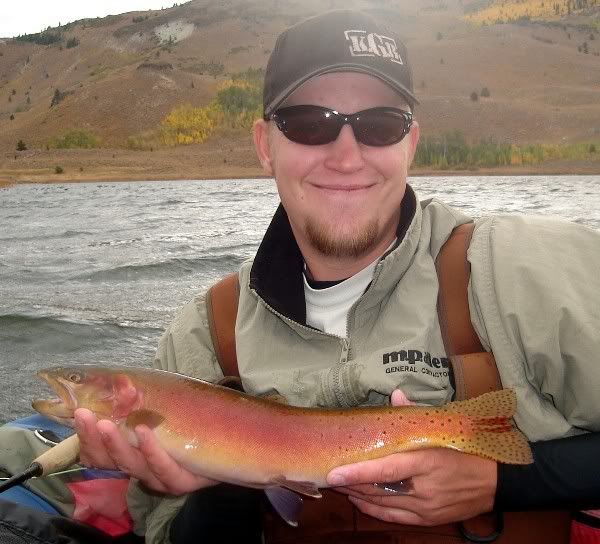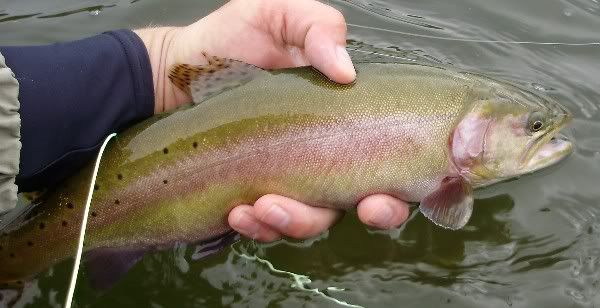 We managed a few killer Brookies too.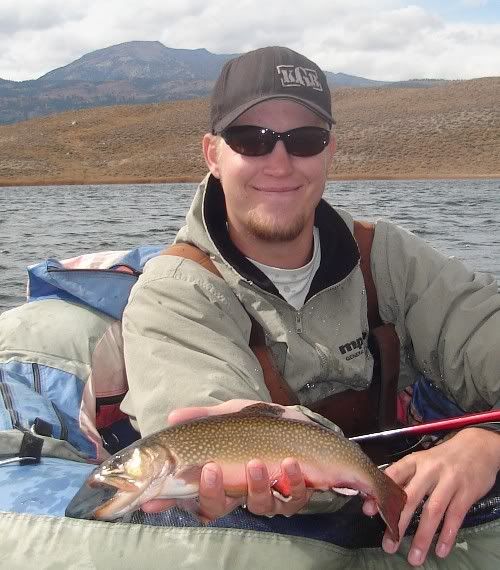 After that I went back to bass fishing for awhile but lets face it, nothing in bass fishing compares to this photo right here:
Man! I'm looking forward to this season!