The plan for this mission was a a trip up to the trail less lake of Kalmia. Total of about 5 miles one way. The first 2.6 miles sees a vertical gain of about 2200 feet! Somewhere around mile 1.5 I pulled my groin. Last mile and a half is a completely trail less route that involves about 500ft of elevation gain, then the mile and a half of side hilling. Snow fields, wet granite , and big boulders. Some scrambling on all fours.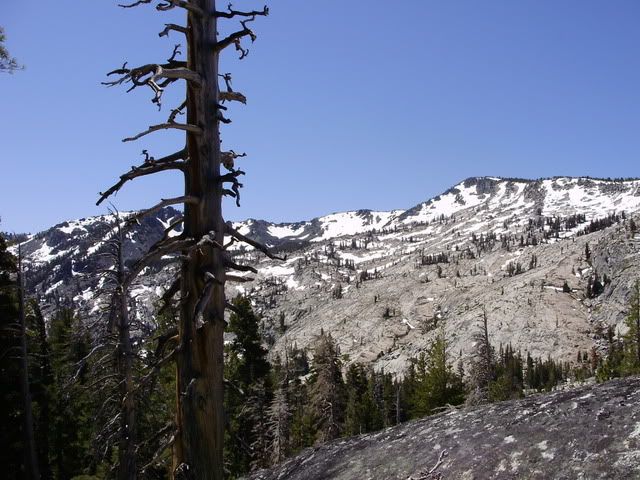 We basically sidehilled that entire mountain in the back ground. From out of frame to the right, all the way to that big bowl on the left. It was gnarly. Add in a pretty bad groin pull and it was pure Hell. Believe you me, this photo belies the scope and brutality of this part of the trek.
This is after we made our ascent and were beginning the long off trail side hill to the bowl.
We finally arrived to this gorgeous little gem, still surrounded by snow at the end of June.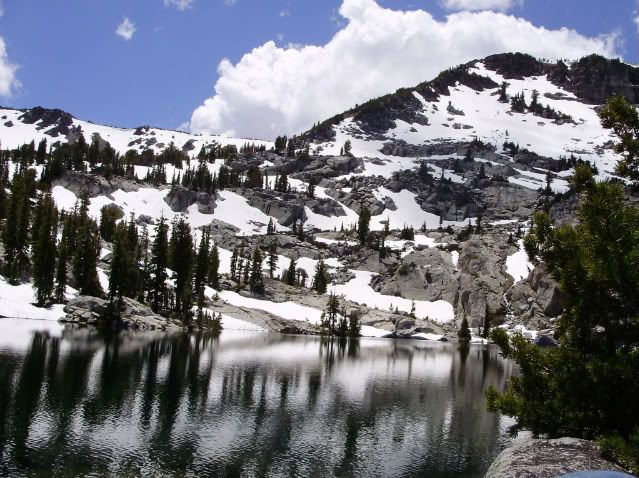 I was in so much pain that I just laid down to rest while my buddy fished. This lake hasnt been air dropped since 2004 so we were hoping to find few, but large Volcano Creek Golden Trout. After being there an hour, and seeing nothing, we decide to pack back up and drop the 500 trail less feet of elevation down to Azure Lake.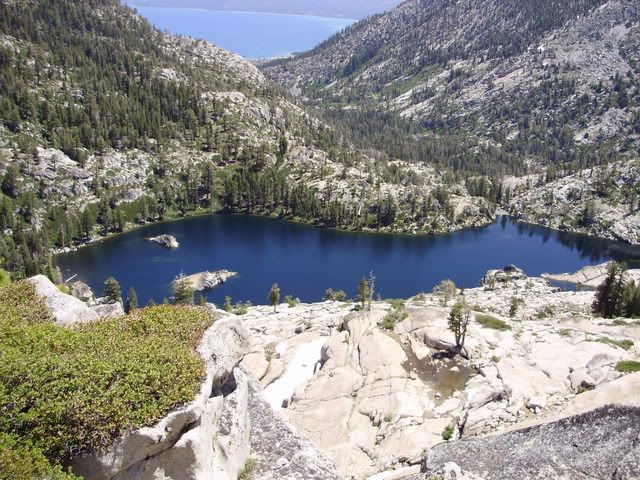 Check out Tahoe in the background, some 2800 feet below! Gorgeous!
As we were tearing down our rods, I watch a 9" and 13" Golden go cruising by. Bastards! We of course re-rigged and tried to catch them, but to no avail. So we tried to get down to Azure. Here is a taste of what ALL of that off trail section looked like up close. Beautiful, but brutal.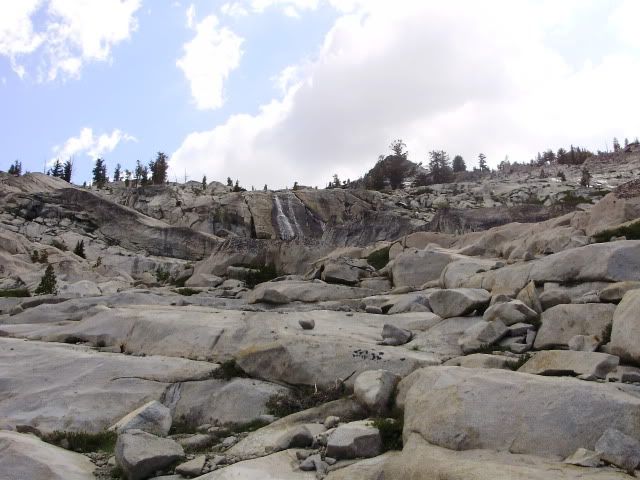 Even after my rest, my injury was killing me, and really holding my buddy back. We were unable to drop down to Azure due to cliffs and decided it was not worth the huge amount of detour that would be neccessary, so we opted to fish Eagle Lake that was only about a mile away from the car. As soon as we reached the trail, with about 3 miles to the car, I told him to go ahead to Eagle Lake and leave me behind, to go at my own, miserably slow pace.
After a very very slow and tough hike, I made it out. No fish, no bites, plenty of pain, but nevertheless a good trip. Gorgeous, inhospitable country.